Pastor James D. Fambro, M.DIV. & Lady Rholanda (Lisa) U. Fambro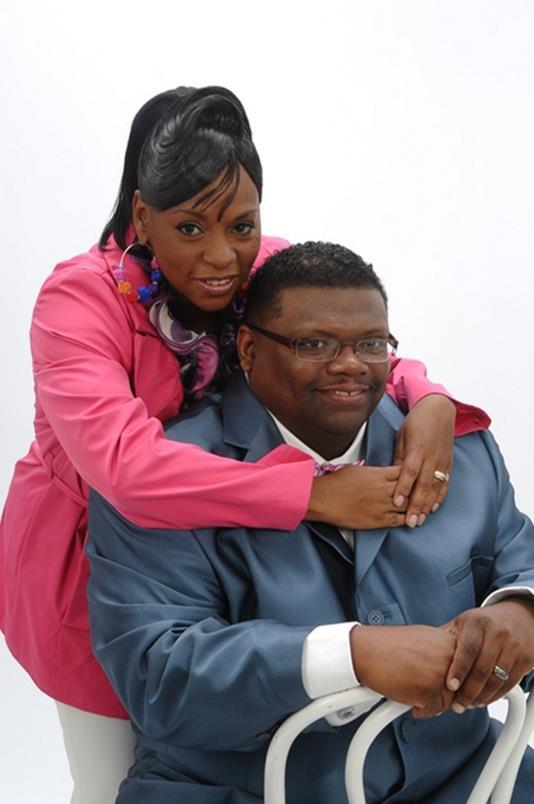 Bio of James Fambro, M.Div.
Pastor James D Fambro is a native of Rockford IL. He is married to his lovely wife Rholanda U Fambro of Camden N.J. Together they have three sons Elias J, Joel D, and David R Fambro all of which they consider gifts from the Lord. Born the third eldest of eight sons James was called to the ministry in his early twenties and has been serving the Lord for 24 years.
Pastor James received his Bachelors of Science degree in Biology from Augustana College. He was licensed under his father's ministry Twelve Gates COGIC in 1995, and is one of the founding and senior pastors of Christian Growth Center Church Rockford. James received his Masters of Divinity from Liberty University Theological Seminary School in Lynchburg, Va. In addition to serving at his local church he also host a Christian radio broadcast program show with his wife titled Relationship Fundamentals, empowering married, single, widowed, and divorced to thrive and sustain happy healthy relationships.
In 2013 Pastor James along with his brother Pastor Tyrone Fambro purchased a beautiful new building, the former O'Have Shalom Jewish Synagogue to further the ministries at Christian Growth Center and serve the community. The ministry has been recognized by several different organizations for exceptional leadership and community involvement.
Anointed with the spirit of wisdom he is a Sheppard to many, Spiritual father to others and inspiration to those who serve under his leadership. A gifted teacher, preacher, and administrator Pastor James desires to see God's people free from bondage, sin and living life abundantly the way God intended. Pastor James and Lady Lisa have been married for 21 yrs and have declared "War" on divorce the vastly growing epidemic in the body of Christ. They have joined forces and are determined to help marriages ban together to weather life's toughest storms.

Bio of Lady Lisa Fambro

Rholanda "Lisa" Fambro is a native of Camden N.J and the second eldest of five children. She is also the proud wife of Pastor James Fambro and the mother of three sons Elias J, Joel D, and David Royal Fambro all of which she considers a miracle gift from God.
Lady Lisa as she is affectionately known is a leader, teacher, preacher and motivational speaker who operates under a prophetic anointing and uses her God given gifts to relay the Word of God into the hearts of people everywhere. Ordained under the ministry of Elder David Goldsmith and The Twelve Gates COGIC Lisa began preaching and running revivals at the age of twenty three years old. Anointed with the spirit of counsel, her passion is to encourage and motivate men and women into their God given Destiny. She believes no matter where you come from and what kind of life you live God can transform you and make you effective for His Kingdom purpose.
In 2014 Lady Lisa celebrated the release of her first book "Favor without Limits"…..It's not an Opportunity It's an Experience. In addition to serving as a First lady she also co-host two radio programming shows, Relationship Fundamentals with her husband pastor James Fambro and Happy Times heard on Soarradio.com.
A business owner, entrepreneur, author, and leader she currently attends Liberty University pursuing her Bachelor's degree in Education. Lady Lisa continues to lecture, preach, and speak at ministry retreats, conferences, revivals, and events throughout the United States. She definitely has a message for the masses. With a prophetic and profound word she will challenge you to go beyond limited thinking and believe God for his unlimited favor in your life.
Lisa desires to lead people to dream bigger, push past impossibilities and live life on purpose!
http://lisafambroministries.org/



​